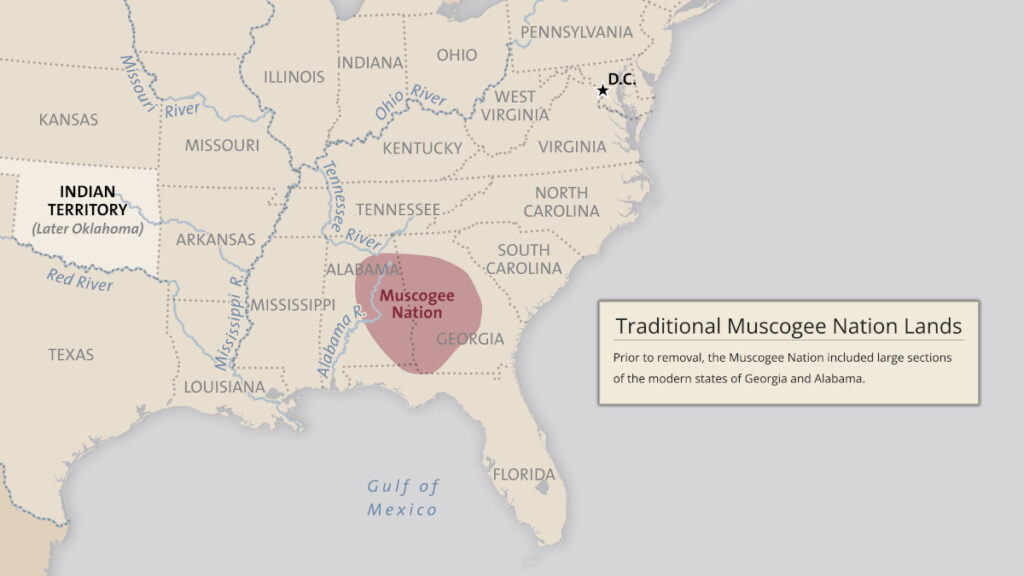 Native sources
Native sources of Mvskoke history will have the most accuracy.
Muscogee Nation
Mvskoke History: A Short Course for Muscogee Nation Employees
https://sde.ok.gov/sites/ok.gov.sde/files/Mvskoke_History_Powerpoint.pdf
Non-Native sources
I wouldn't be sharing these selections if they weren't decent sources of easily digestible Mvskoke history or important reference materials. Keep in mind however, that information from non-Native sources may have non-Native perspectives or bias, even if slight or subtle.
For example, generally when colonizer history says hundreds of years, Mvskoke history says thousands of years. This is something to remember, even the best non-Native historical documentation has built-in bias and inaccuracy doing its best to erase or minimize Natives.
Smithsonian Institution
This is a great slideshow (including videos) of Mvskoke history.
Before the Trail of Tears removal 23 pages.
https://americanindian.si.edu/nk360/removal-muscogee/before.html
During the Trail of Tears removal 15 pages.
https://americanindian.si.edu/nk360/removal-muscogee/during.html
After the Trail of Tears removal 17 pages.
https://americanindian.si.edu/nk360/removal-muscogee/after.html
Videos
Thanks!
-Yehuda